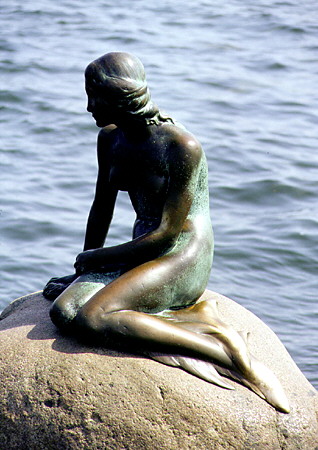 Well, the changing out of winter's wardrobe for that of warmer seasons will certainly make you face up to some things if nothing else will. Here in North Carolina the spring brings with it fickle and fluctuating temperatures. This past weekend we saw 90 degrees, tomorrow it will be in the mid-60s. So it's a bit like dipping your toe into the water - and out again, and in again, until you've had some time to get adjusted to simple hot and humid - Summer. I love the things I've always loved about summer, but there are the things I really don't.
With summer comes the trying on of last summer's clothes, which
always
seem to have gotten snugger during their period of hibernation in a box. That all goes with the territory of being a woman I guess and is predictably forseeable, as is it's accompanying partner - dread. But within the past few years, there has been a new certain something that has shadowed the perimeter of these rites of transition, lurking with sharp edged teeth. I see it in my reflection and it colors my thoughts with questions and unbecoming self-evaluations.
Isn't that shirt a bit too young for you now? When did those lines get to be so permanent? And why do they have to be etched downward? I'd so prefer them to slant upwards. Are ruffles too much? Does my hair color look natural? How much is really grey now, anyway? What would be the best pant length for legs shaped "like mine"? Why do all bathing suits assume we want to show cleavage? I need to find a good cover-up this year... Why can't we see a resurgence in the bathing trends of, well... I'm not exactly sure how far back the style trend eras go for acceptable swimwear - but at least something more naturally becoming
? I
could
just keep my cover-up on. I know someone else who does. What is an acceptable hairstyle and cut for a woman my age anyway?
And there - I've said it - a woman
my age
. I've just classified myself in an unflattering way simply because of the candles on the cake. For at least five years I have made it a point to steer clear of sidling alongside anyone who references themselves as old. I avoid statements of joking self-deprecation that are anywhere near geriatric in humor. I have quoted Chuck Swindoll on numerous occasions, "Once you start calling yourself old - you are." No thank you! A poem flies to my thoughts -
Do Not Go Gently Into That Good Night
. I am wrestling in an attempt to understand my own struggle.
I do not wish to cling to days' past like the faded Miss Havisham. The melancholy that overtakes my sentimental husband when looking at photos of our children as little ones does not overtake me in the same way. That was then, precious and dear but of an intangibility called memory. This is now, a gift much more easily grasped and handled and if I don't pay attention I will miss it - even if it is wrinkled and creaking. Given my practical nature, I did not expect to really find aging to be any sort of upset. After all, given time it really is rather predictable.
I just thought I would do it so much more gracefully.
As I turned from my bathroom mirror to hurry to my computer to write this post, a sharp pang shot without warning through my foot. I limped gingerly to the dark screen and keyboard. Like most difficulties in life, suddenness is often part and parcel of the package. And regardless of our preconceived notions of how we will handle such and such, reality is much more intense and bracing.
Eventually, I suppose I will get used to the waters in which I find myself swimming. Regardless of the suit I wear, it is the soul that glides through the blue. And a toe at a time, I will become accustomed to the changes. Still... may I do so with grace, Lord? It seems I need your help with this as well.
* Even to your old age and gray hairs
I am He, I am He who will sustain you.
I have made you and I will carry you;
I will sustain you and I will rescue you.
*Isaiah 46:4